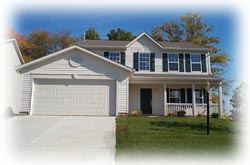 Professional Home and Building Inspections
Buying a new home may be the biggest investment you will ever make. Although the process is very exciting, it quickly becomes overwhelming. While the home you have selected may appear to be just what youíre looking for, how can you be sure there arenít potentially serious unknown defects which can make your investment in your future a costly one? Having your new home professionally inspected by our company as early as possible in the buying process, can save you thousands of dollars on items which you may be able to have the seller or builder correct.
Our company is dedicated to providing you with valuable information about your new home. We thoroughly inspect all major components of the subject property to expose unknown defects. And, we advise you about future maintenance considerations about your home. Our company will give you the information you require to make an informed decision. The visual inspection of the subject property shall be performed by the inspector for the client in accordance with the Standards of Practice of the American Society of Home Inspectors, Inc. (ASHI).
We would like to take this opportunity to introduce to you our firm, A.J. Papp and Associates, Ltd. We have been in the home and building inspections business for more than 30 years. As a licensed Professional Engineer and a full Member of the American Society of Home Inspectors (ASHI) Mr. Papp brings more than 40 years of engineering and field experience to you. This expertise is invaluable in protecting what will probably be among your biggest investment decisions, your home!
As a professional service, we are unique in the industry as we provide you with the assurance that you are getting the best home inspection possible. We personally inspect each home and spend, on average, between three and four hours at the site. We encourage you to be present and will work closely with you to ensure that you are comfortable with every facet of the inspection. Questions are encouraged and concerns are allayed!
All inspections are followed up with a report, specifically written for you (not a check off form). Each report is clearly written and geared to clarifying all information cited. In addition, we will fax or email a copy of the report to you and your attorney's office and will be available to answer any questions.
To date, our business has grown through referrals and word of mouth. We have thousands of satisfied customers, many of who have used us to inspect their third house. We are now available twenty-four hours a day/seven days a week.
Area of Service
We provide home and building inspections and environmental services on Long Island (Nassau and Suffolk Counties), Westchester and in the Greater New York and Metropolitan Areas including: New York City.